She said she hardly slept but I know that's not true. I know that, because I hardly slept and I checked on her several times throughout the night, catching her fast asleep in her bed and later, in the early hours of the morning, in our bed.
When she did wake she wanted to go.
"It's not time," I said. "It's too early."
"We'll walk slow," she said. "Really, really slow. I promise."
I showered and dressed. She put on the outfit she had picked out the night before, the one we had gone shopping for the week prior, the one I actually took the time to iron last night.
Andy clasped a new necklace around her neck, one that Grandma had made. I clasped an identical one around my neck. I gave them to her the night before, and explained the idea behind a worry stone. She chose the pink heart to be her worry stone. She rubbed it.
"Do you think we might rub it at the exact same time tomorrow?" she asked.
"I bet so," I said.
We read The Kissing Hand.
Back to this morning. After we had had our cereal, and as I was pouring my coffee into a thermal cup she said, "You're going to take that with you, right?" The idea of sitting around waiting for me to drink a cup of coffee was just too much.
"Yes," I said.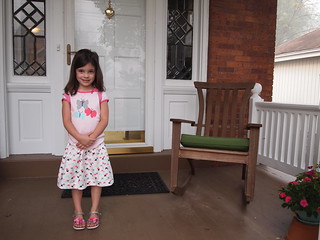 We took pictures on the front porch. Owen and James sung their goodbye song to her. And we started to walk.
She clutched my hand and skipped. And yelled "wa-hoo!" several times during our walk. I love her life wa-hoos.
Halfway through she stopped and reached for her necklace, but not for her worry stone—rather she reached for another, silver, charm. "This," she said, "is our excited stone. It's what we'll rub when we're excited."
I squeezed her hand and smiled.
We continued to walk. More parents and children donning backpacks filled the sidewalks. The entrance to the school was packed with children, parents and siblings.
She ran into friends made during preschool.
The principal opened the doors. Everyone poured in. There were balloons everywhere. I was delighted to learn that, at least on this day, we were able to walk her directly to her room.
Sophie became more quiet, her mouth sometimes set in that butterfly mixture of anxiety and excitement.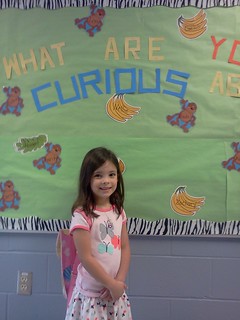 We found her classroom.
Her desk and her name tag.
Her cubby.
I hugged her goodbye.
As I left, she was rubbing a stone. I don't know which one.
Despite the thick fog, I put on my sunglasses. And breathed deeply. And wondered why I was so teary. I knew I would be a little teary, but honestly, I didn't expect the need to constantly wipe my cheek the entire walk home.
Andy was completely perplexed by all this.
"It's just the start of school," he said.
But it's more. It's the start of something new. She's part of something bigger now. Daily she'll experience, learn, see and do things I won't ever know about—as she should.
And part, I think, is that she's now doing something I vividly remember doing. And I'm done doing that. And she's just starting. I saw the look on her face, that butterfly mixture of emotions and remembered. Something about our walk to school together this morning really reinforced the cyclical nature of life and the life seasons so many of us are lucky to experience.
My tears this morning weren't because I was sad that I wasn't spending this morning—and many future mornings—with her. Rather they were from someplace deeper. That place is mostly filled with joy and gratitude. But pockets of sadness hide in the corners of that place, too. It's a deeper sadness, something bigger than "I'll miss you." Rather it's a sadness that what she's experiencing in life right now I've already done. And someday, she'll have done it, too. And while I'd much rather move forward versus go back, the finality of our life phases can weigh heavy at times. So I think about what Kahlil Gibran wrote, "When you are sorrowful look again in your heart, and you shall see that in truth you are weeping for that which has been your delight."
Now, I'm fine. Completely and totally (mostly) fine. And so excited to walk back to the school with Owen and James, pick her up, and ask her questions all the way home—or at least until she tires of me asking them.
Goodbyes, to people, to periods of time, are hard. But those goodbyes make the hellos even sweeter.
"The Universe is one great kindergarten for man. Everything that exists has brought with it its own peculiar lesson." —Orison Swett Marden