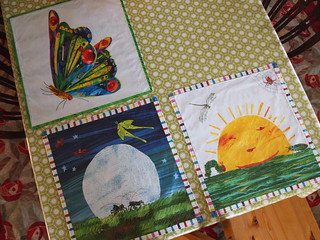 These are the placemats my children use every day, for every meal. My mom made them. They were Valentine's Day gifts. Each is a laminated Eric Carle print. James gets the very hungry caterpillar (with the big sun) because he out-eats everyone, daily. Owen gets the moon. He loves the moon. And Sophie gets the butterfly, the same butterfly which is embroidered on her backpack.
They're large, perfect for big messes. The back has rows and rows of the food Eric Carle painted for The Very Hungry Caterpillar. The boys love to point the items out, yelling "ice cream!" "cake!" "cheese!" over and over. Owen likes the colorful border, constantly asking "What's that? What's that?" After tiring of naming colors throughout dinner, we, for awhile, convinced Sophie to answer for us. She would patiently say "That's blue, Owen." Or "That's pink, Owen." But now, even Sophie, is tired of the constant questions. She'll answer once or twice and then say, in a very mother-like tone, "That's enough, Owen. Eat your dinner." To which Owen replies, "Moon! Look, Sophie! Moon!"
It is a beautiful moon.
Thanks, Mom.
"We have eyes, and we're looking at stuff all the time, all day long. And I just think that whatever our eyes touch should be beautiful, tasteful, appealing, and important." —Eric Carle