I need to talk about today. Because today has been, well, awful.
Everyone's sick.
That's not true.
James and Sophie went to school today.
But everyone has been sick, at some point, since Thanksgiving.
For all of us it's been a feverish cold but then today Owen threw up his toast. And now he's hungry and yelling at me and I can't do anything about it.
Our furnace sounds like it's some strange being from a horror movie and the warmest it's been in our house all day is 66°.
James fell asleep 10 minutes before we had to leave to pick up Sophie. When I woke him up he, still half asleep, punched me in the arm, over and over, he was so angry with me.
Owen refused to walk to the van and refused to let me carry him. When I finally picked him up he kicked off his rain boots and screamed about the injustice of it all as I took off his thick winter coat, leaving him to freeze in his pajamas as I buckled him in his car seat, barf bucket next to him.
I picked up Sophie in the infuriating car line (not wanting to make Owen walk to school today) and she said she presented her gingerbread person today and I was so excited to hear all about it because she was so excited to decorate it—her first big, at-home school project.
She was so-so throughout the whole conversation and then said everyone else in her class had their parents help them with their gingerbread people and the directions said parents were supposed to help and she asked me to help but she said I said I was too busy to help and apparently all the other kids' gingerbread people were much more fancy.
I remember saying I was too busy at.that.exact.moment but I also remember asking her if I could help later and I remember her saying no, that she wanted to do it herself and I thought her gingerbread person was beautiful. Yes, the outfit was simply colored with crayon but it was so lovingly detailed and I thought the hair was so clever—twisted pipe cleaners, totally her idea. But in the end, this wasn't nearly as fancy as all the other gingerbread people.
I'm close to tears and she's close to tears and I think we're all exhausted. Exhausted from travel (Baltimore, TN, and Lewisburg, Ohio the last three weekends). Exhausted from Christmas, already. Exhausted from school, freelance work, laundry, homework, life.
We have sore throats and sniffles and beautiful gingerbread people that we feel are lacking (even though they aren't) and looming deadlines and 20 minutes of reading every night and agents who are finally answering their 2014 queries (which means seemingly every-other day rejections coming my way) and neighbors who have the most amazing Christmas lights all over their house (ours are not yet up), lights that include a countdown to Christmas, which is not at all helpful in terms of my level of stress.
Here's a picture from this weekend. It's the best one I have of all three kids while cutting down our Christmas tree. Owen is crying because he insisted the tree we chose was too small, despite our many conversations about the limitations of our home's ceilings.
Fa la la la la.
(This, for all you mamas and papas who feel as if December should be magical 100 percent of time. Today our holiday season is -27 percent magical. Check back in a week when I write a sappy/happy-tearful piece about decorating our tree. But today, for now, if you're in the negatives—or not breaking 50 percent—know you're not alone.)
"Mama said there'll be days like this
There'll be days like this mama said
(Mama said, mama said)." —Luther Dixon, Willie Denson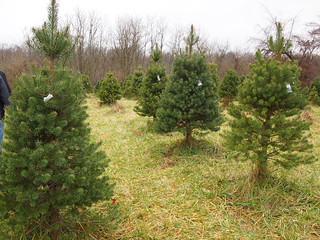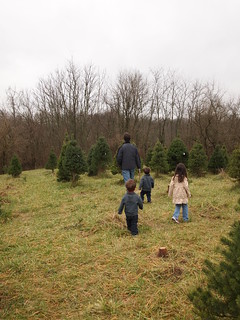 Finding the perfect tree at Burlington Tree Farm.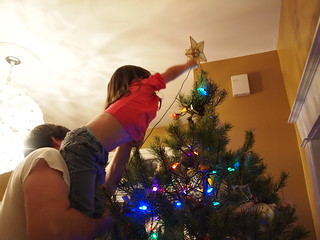 Decorating the tree.
Sophie's handmade Christmas present to us, from preschool (she couldn't wait until Christmas to give it to us).
A late night writing Christmas postcards.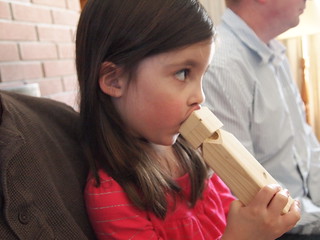 Christmas at Great Grandma Gebhart's house + handmade train whistles from my uncle Skip.
Greg
Pop Pop's lap overflowing with grandkids.
James and Owen with their new cars from Great Grandma.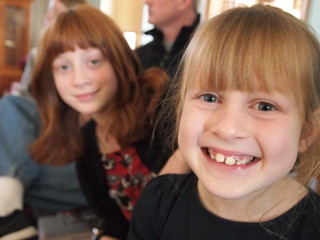 Autumn and Amanda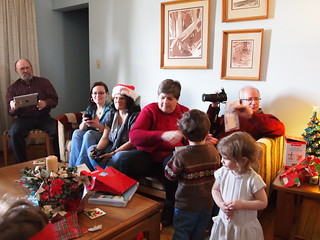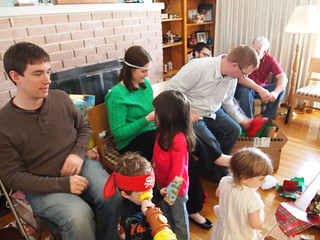 Opening presents.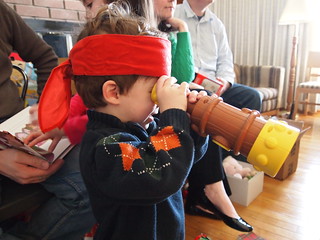 James's new Jake the Pirate set from my aunt Ellen and uncle Skip (he loved it).
my grandma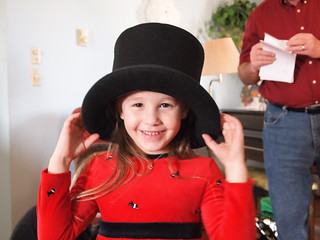 Suzy
Aunt Katy and sleepy Colleen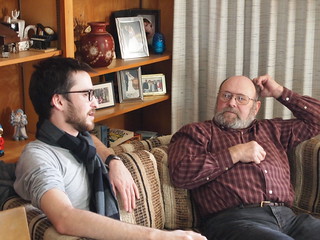 Uncle Kyle and (Great) Uncle Skip
Autumn and her mom, Lisa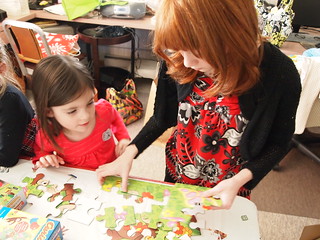 Sophie getting some puzzle help from Autumn.
Andy and my uncle Roger in the kitchen.
Aunt Ellen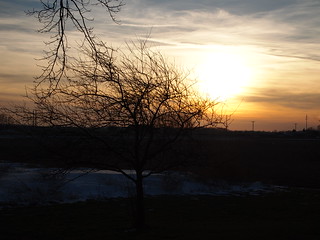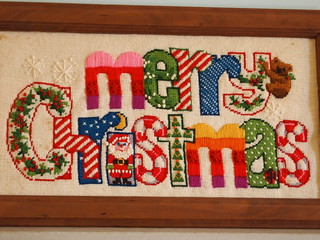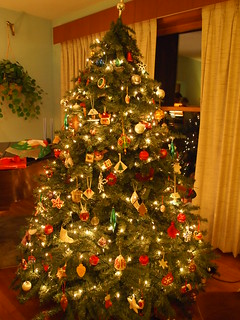 Christmas at my grandma's farm, a tradition I've long loved.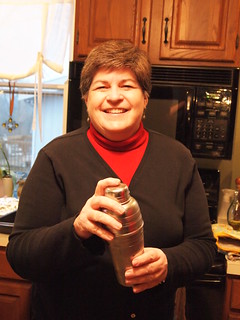 Nini making pomegranate cosmopolitans.
Nini, Katy and me!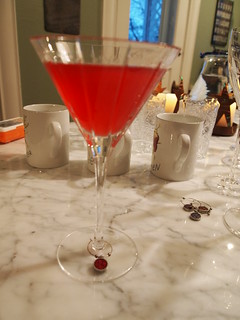 (They were delicious.)
Nini reading Eve Bunting's Night Tree to the grandkids.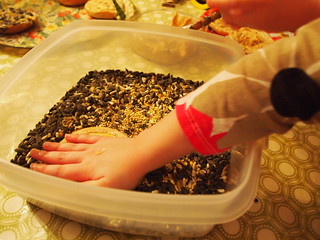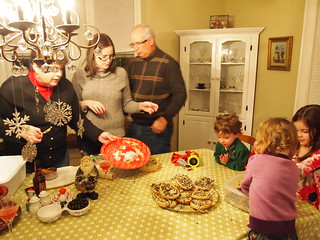 A Christmas gift for the birds—bagels covered in peanut butter and bird seed.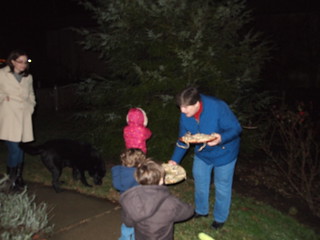 Hanging our gifts on the pine tree.
Mom and Dad (Nini and Pop Pop)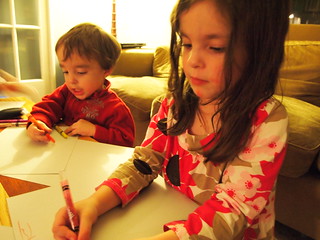 Writing letters to Santa.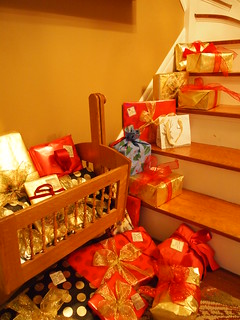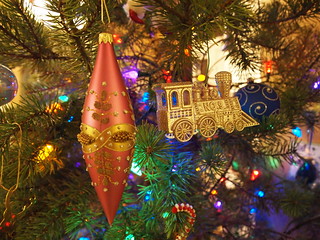 Christmas around the house.
Sophie's preschool Christmas gift to us.
The decorated mantel—Sophie wasn't pleased with it so she added the ribbon and, if you look close, handmade snowmen hanging from it (of course, I left it).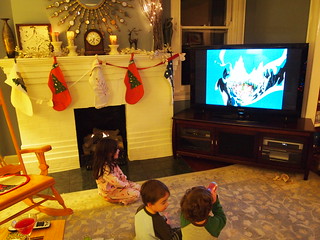 A Christmas Eve viewing of "How the Grinch Stole Christmas."
Andy reading 'Twas the Night Before Christmas.
James and Owen, clearly ready for bed.
More Christmas around the house.
Letters, cookies, milk for Santa, and lots of carrots for the reindeer.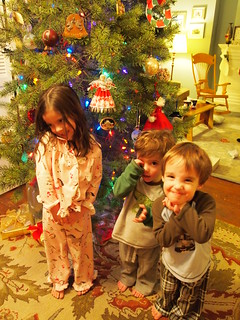 Christmas Eve, right before bed = joy.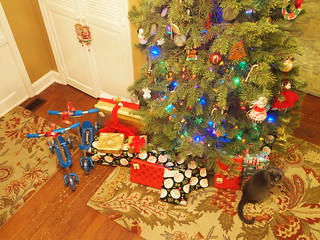 He came!
The walk down the stairs.
Christmas morning.
Christmas day at my parents' house.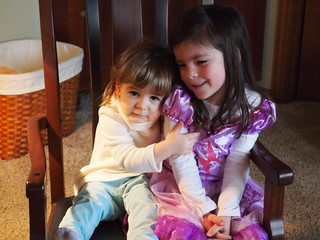 Colleen and Sophie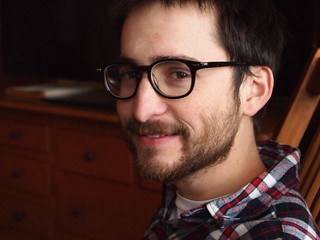 Uncle Kyle
Opening gifts.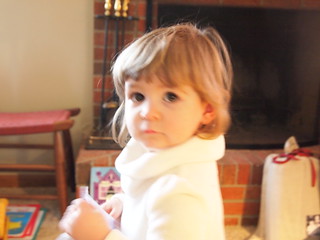 Colleen
Colleen's handmade hand-print wreath (with the help of Nini) to Uncle Tom and Aunt Katy.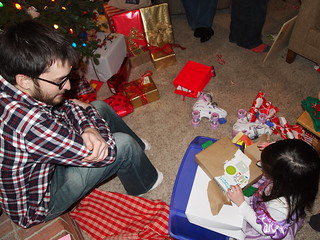 Uncle Kyle and Sophie
family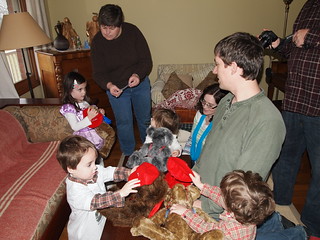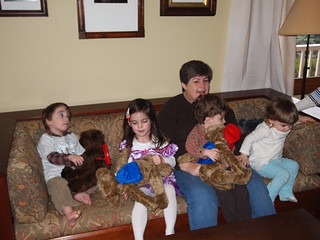 My mom made beautiful teddy bears for each of the grandkids. They loved them.
Kids' table.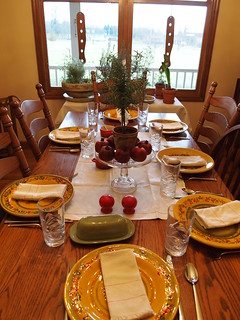 Grown-up table.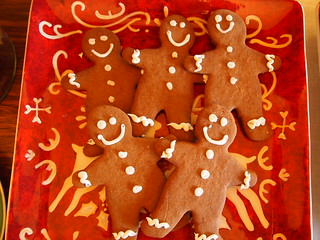 The BonBonerie Christmas cookies.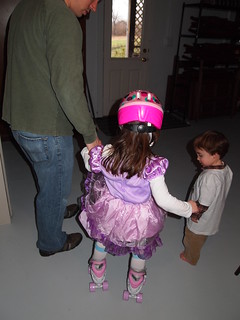 Sophie trying out her new skates …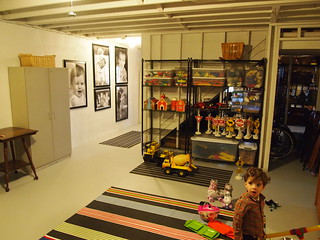 in my parents completely reorganized, repainted basement.
Christmas around my parents' house.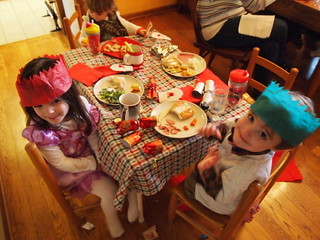 Christmas dinner and paper crowns.
James, Owen, Sophie and Colleen
The teddy bears my mom made …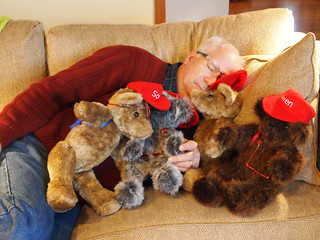 (they're comfy).
Bliss.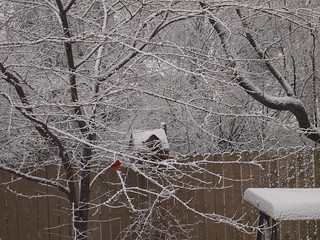 Day-after-Christmas snow.
Gear. So. much. gear. (But of course, no boots. We hadn't bought them yet.)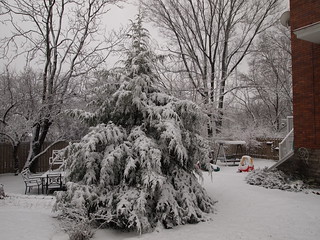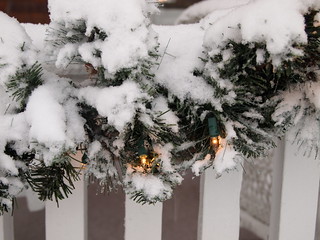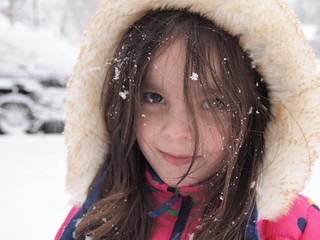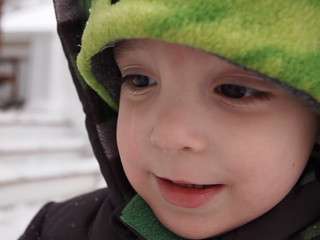 The kids' first snowfall of the season—and their first snowman!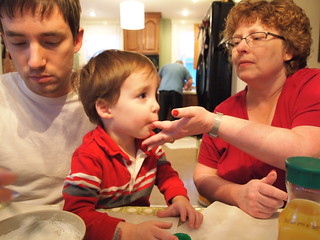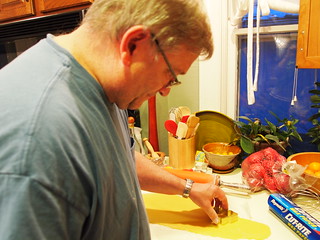 Making the traditional Uhl Family Christmas Cookies with Grandma and Paw Paw.
Owen taking a TV break from making cookies.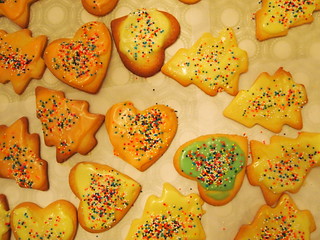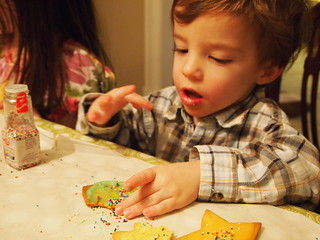 So good.
Christmas Eve w/ Grandma and Paw Paw.
Christmas morning—again!
Sophie opening her very special craft box, which Grandma put together.
Paw Paw and Grandma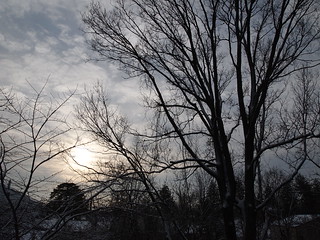 Early morning sun.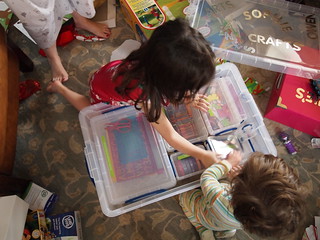 Grandma made a craft box for all three kids—it's huge and organized and labeled and filled with so many wonderful things—all three children play with it daily (thank you).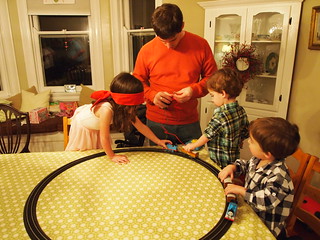 Thomas the Train tracks = love.
"The best of all gifts around any Christmas tree: The presence of a happy family all wrapped up in each other." —Burton Hillis