Since Sophie had enough fine hair for me to slip through a barrette, I have tried to adorn her hair. She won't stand for it. No barrettes. Ponytails. Pigtails. Headbands. Bows. Most days I love her now-long, now-thick, unadorned hair. It's beautiful and natural and messy and soft. And hers. All hers. But sometimes, when we're playing with each other's hair, I adorn. And I love. But it never, ever lasts.
Until her last haircut.
Some history: Nicholena has been cutting my hair for years. Sophie loves Nicholena. She talks about Nicholena often. Some days, she begs me to take her to get her hair cut, even when it doesn't need cut. End history.
At our last visit, Nicholena and I decided we should try to grow out Sophie's bangs (we, of course, asked Sophie her thoughts on the matter and, after consideration—and explanation—she agreed). But then I thought about the adornment—or lack of. I expressed my concern to Nicholena. How would I keep her bangs clipped back during the sometimes-awkward, growing-out stage?
So Nicholena spoke with Sophie. She told Sophie how much she loved barrettes and headbands and how pretty she thought they would look in her hair. Sophie listened, intently.
And then. After almost four years of my not being able to keep a single barrette in her hair for any length of time, Sophie insisted on this the next day—the entire day: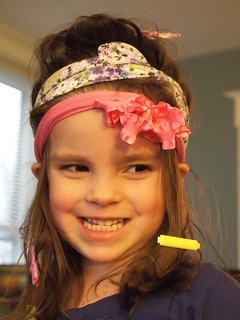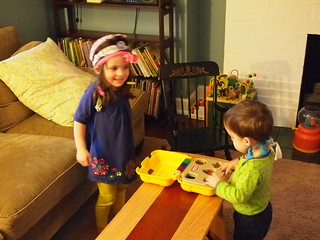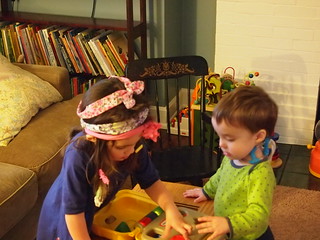 At our next visit to the salon I plan to ask Nicholena to share her passion for green beans and broccoli.
"The hair is the richest ornament of women." —Martin Luther