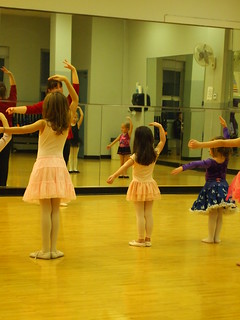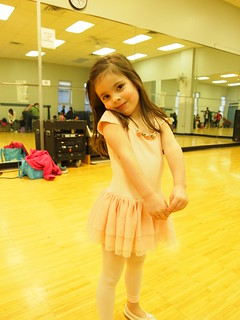 Every Tuesday at 5pm I load up all three kids into the minivan and drive to the Campbell County YMCA for Sophie's ballet class. She's been doing this for a year now. She loves it, as was apparent when she had to take a three-week break after her surgery.
It's a really nice class. It's free, with our family membership. I can drop the boys off at Child Watch (which they now get excited for, compared to screaming about it every time we drive pass the Y building). I sit on a bench and talk with other parents while watching Sophie be reminded to stand in first position (also called pizza feet), and attempt a plié, port de bras and sauté. Her teacher is the perfect combination of strict and not-so-strict.
There are no recitals, because the class isn't with a dance studio—rather it's simply a Y offering. But we have many years for recitals, concerts, games and plays. I'm OK with this once-a-week activity. I'm OK with the simplicity of it. Lately we've been sticking around for youth hip-hop, immediately following. I bring the boys up—they love it. James has some moves.
Once home, after dinner, Sophie runs up to her room and turns on her radio—WGUC 90.9, Cincinnati's classical music station, is her current favorite. The child listens to it day and night, swirling around her room until she's dizzy. She calls it her "royal ball music." And at least three times a week she passes around a carefully handwritten invitation to the RULBO (royal ball). Then, after dinner, all five of us spin around her tiny bedroom to Vivaldi and Bach.
These are some of my favorite evenings.
"Dance, even if you have nowhere to do it but your living room." —Kurt Vonnegut