It's nothing new to say that dinners with toddlers can be frustrating. See this post and this post and this post and this post and this post.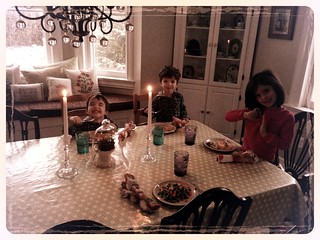 But sometimes (dare I say, lately, often) it can be lovely. I grew up eating as a family around the table, and since our children have been in highchairs, we've tried to do the same. We try to use cloth napkins more so than not. Sophie insists on napkin holders more so than not. I've long given the kids glass glasses. At dinner, we all use real plates. In fact, I think I'm ready to clear out the plastic plates altogether.
The last two times I've had dinner with my dear friend Linda at her house she's lit candles. How many taper candles have been lit for meals throughout the years—throughout time? I love the simplicity of them, yet the way they say "This is important." So I was delighted to find two candlesticks at an estate sale in Fort Thomas for $10 last week.
So while the rest of the house is often covered in toys and the laundry has piled up and I'm behind on freelance work and the beds haven't been made (for several days), I try to make dinner nice.
Even if the meal is bunnies with cheese accompanied by mixed veggies.
"The oldest form of theater is the dinner table. It's got five or six people, new show every night, same players. Good ensemble; the people have worked together a lot." —Michael J. Fox