I was cutting bananas, half-awake, bleary-eyed, while Owen and James, in their footed pajamas, clung to my legs pleading for "bana." Sippy cups of whole milk. Glass of milk for Sophie. Yogurt for Sophie. Cut bread, made toast. Just butter for Sophie. A (little) cinnamon and sugar for the boys. Made coffee. Fed Tucker. Let Tucker out. Let Tucker in. Found outfit for Sophie. Dressed Sophie. Listened to Sophie insist on some modifications (aka red sparkle shoes instead of tennis shoes, bright orange ribbon tied to her wrist, barrettes halfway down her hair). Modified. Brushed Sophie's hair. Listened to Sophie complain about the necessity of daily hair brushing. Another banana for James. Another piece of toast for Owen. Pleaded with Sophie to let me pin her bangs back, which are growing out so  s l o w l y.
Throughout all this, Andy was getting ready for work. He noticed his keys (the only set we have) on the living room floor (why they were there, I don't know). He only had to grab his coffee—he thought, he'd get them when he walked back through the living room.
Except, one of the boys got them first.
Gone. Completely gone.
We don't have a garage. Both our station wagon and van were parked in the driveway, the station wagon (which Andy drives) blocking in the van. There's no way we can get the van out, because of trees, without moving the station wagon.
Stuck. Totally, completely stuck.
Andy and I looked for an hour. Everywhere. We pulled cushions off of furniture. Crawled around on our hands and knees. Emptied every toy basket and bin. Looked inside the play kitchen's cabinets, the fireplace, the china cabinet, under the piano, under the buffet, behind the couch, through the cat door which leads down the basement steps. I frisked the boys, thinking one of them may have dropped them down their footed pjs. We gave them the van's keys and watched to see what they did with them. We asked them, over and over and over, "Keys? Where are the keys?" To which they responded, "Keys, Mama! Keys, Dada! Look! Keys!" They would then drop on all fours, look under furniture, pop up and say, "Keys!" Not helpful.
Andy called into work, saying he had to work from home. We had to tell Sophie we couldn't take her to preschool (that went over well). Andy and I argued. I claimed he was mistaken, that he didn't see them on the floor, that they were in a coat pocket or pants pocket or in our bedroom or in the fridge, next to the coffee creamer (I looked there). He went down to the basement (we have a finished room down there) to work. I continued looking. Off and on, while taking care of the boys.
For five hours.
I thought for sure I had found them when I discovered a half-full container of cinnamon in the kitchen trash can. That meant the boys had been throwing things away that morning. That meant the keys had to be in there. I pulled out the container of cinnamon and washed it. And then went through every piece of garbage, piece by piece, with plastic grocery bags wrapped around my hands.
Nothing.
I pulled everything out of the pantry and the pantry's bottoms shelves.
Nothing.
I rechecked everything.
By this time, my mom had come over. She must have sensed my frustration. (Moms are good at sensing frustration.) She helped take care of the kids while I looked. She looked. Andy spent his at-home lunch break, looking.
It was parents' night at Sophie's preschool that night. We promised her we would go. "We'll walk," I said. My mom called my dad and he said he'd come after work, so we'd have another car. We promised Sophie, promised her, we'd be able to go.
"Should we call a tow truck?" I asked Andy. "To move the Subaru?"
In our living room we have a set of French doors that open all the way, against our living room walls. I checked behind those doors several times. Andy did, too. They weren't there. They weren't on the floor behind the doors.
My mom was looking, in the crack between the French door and the living room wall.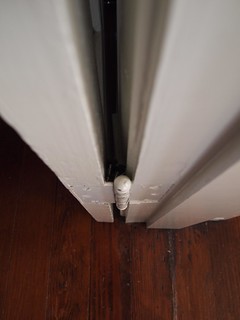 She noticed something.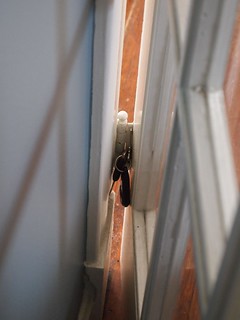 This.
Either Owen or James had tossed/shoved/put the keys between the door and the wall and they landed, looped around a hinge.
I squealed and hugged my mom. Andy gave me a I-told-you-they-were-on-the-floor-and-not-in-a-pocket look. Sophie, still upset about missing preschool, asked me if we could have a treat (aka candy) now that the keys had been found (in her mind, any celebration deserves a treat). The boys continued napping.
We have a key bowl. It's in a cabinet, in our entry. We're just so bad about using it.
Changing that. Changing that now.
"If you ever drop your keys into a river of molten lava, let 'em go, because man, they're gone." —Jack Handy
What have your children hidden from you?