Ten years ago on October 2 Andy and I got married at the Cincinnati Observatory.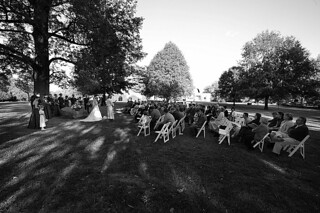 It was a lovely wedding.
We honeymooned in Italy by way of Paris. Our total time in Paris was fewer than 24 hours, and immediately upon our return I said I wanted to spend our 10-year anniversary in Paris.
Ten years ago we were young, idealistic, without children and a mortgage, happy to live on boxed noodles and one car. I started a Paris Fund Jar, swiping change from Andy's dresser, thinking about all the street crepes I would buy in what seemed like a lifetime away.
So much can change in 10 years, and yet it can go by so fast. In a letter Andy wrote to me for our 10th anniversary he reminded me of this: In those 3,652 days we had three kids, acquired one dog, went through six job changes, bought and/or sold five cars, had six surgeries, bought two houses and celebrated 34 birthdays.
Life—beautiful and hard, quiet and thrilling—happens.
We're on a strict three-year money-savings plan right now, with hopes for a solid (financial) future.
Throughout our 10 years, Andy (who is, at times, more reasonable in his daydreams) would joke about our 10-year anniversary trip to Paris, telling me that certainly we could go—as long as it was Paris … Kentucky. And so, several months ago, knowing Paris (France) was decidedly out of the question, we decided to book a room in Paris, Kentucky. Turns out, from the pictures online and a magazine article a friend gave to me, it's a lovely little town in the heart of horse country.
But then we really looked at the cost of it, and thought about how it directly conflicted with our grand three-year money-savings plan. And so we downsized our (or, perhaps, my) daydreams, again.
And so, on our 10th anniversary, we went back to the Cincinnati Observatory and had a picnic underneath the same tree, in front of the same rock, we were married 10 years ago.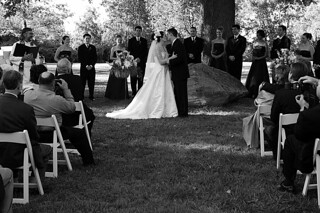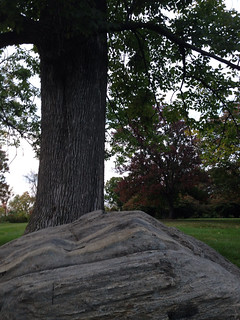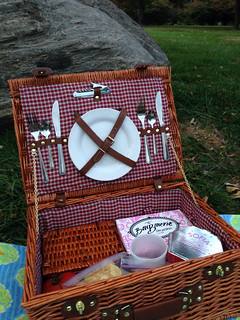 It was perfect.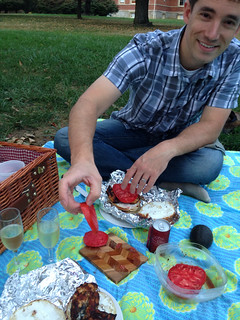 Andy came home from work a bit early and grilled some chicken for sandwiches to pack. We included some chips and Sofia Minis. We sliced an avocado and homegrown tomato on a small cutting board my mom had given to me as a Bride's Day gift (for the 12 months prior to our wedding my mom gifted me something small on the 2nd of each month—a tradition I hope to carry on for my children should they choose to marry someday). And we packed our picnic in a basket gifted to me by dear friends, during a bridal shower.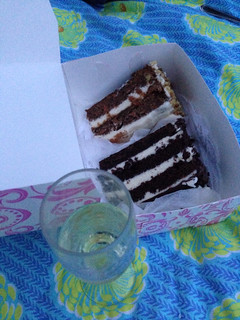 Earlier that morning, while the kids were at school, I went to The BonBonerie and got two slices of cake—carrot and opera cream—the same flavors we had at our wedding.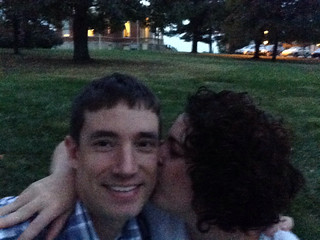 The weather was cool with a warm breeze. As the sun set bats flew over us. The leaves around us were just starting to change color, and the Observatory behind us lit up.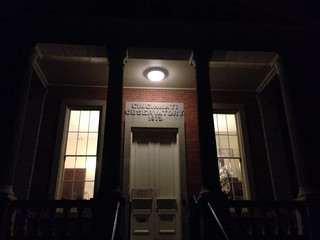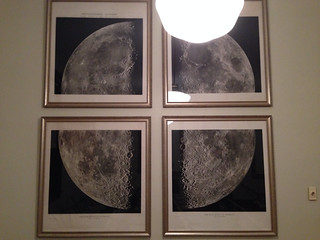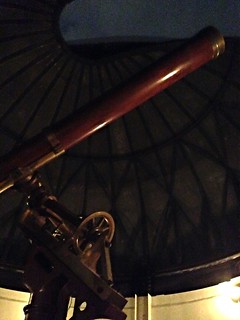 After our picnic we attended the Observatory's weekly Thursday lecture and viewing. We learned about eclipses, and viewed the moon and a gold and blue double star in the beautiful, old telescope.
But, of course, not all of life is wonderfulbeautifulperfect—not even 10-year anniversaries.
On the way to the Observatory I was irritated. We were running a half hour late—and only had a sitter for four hours. I was worried it would be too dark for our picnic, and that we would be too rushed. I was worried we would be late for the lecture. Upon our arrival I noted that the big, old, beautiful tree we were married under was half dead. I was worried that was a bad omen. And selfishly, unrealistically, spoiledly, I was also irritated we weren't in Paris—France or Kentucky.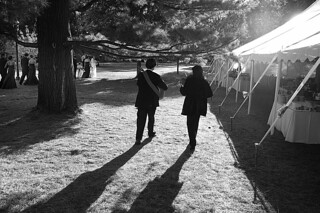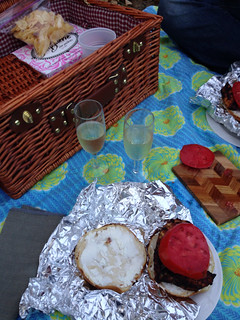 But something happened during our walk over to the tree. Maybe it reminded me of our wedding day walk from the Observatory steps to the tree, hand-in-hand, listening to the walking violin players, leading all our family and friends behind us. Whatever happened happened suddenly, and by the time we spread out our picnic blanket and poured the champagne, I didn't even care when I spilled half a glass all over my chicken sandwich.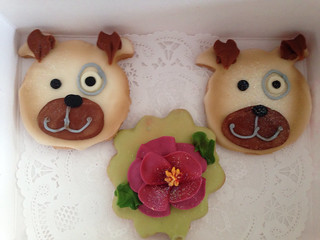 While at The BonBonerie I splurged (sorry, grand three-year savings plan) on these cookies for the kids.
After their dinner, and before we left for our picnic, we gave them the cookies. We told them why we were going out on a Thursday night, the reason we were celebrating. We told them we married because we wanted to be a family. And that we wanted them, someday, and now that we had them, how thankful we were.
Tonight, thinking and writing about all of this, I was reminded of an article written in Cincinnati Business Courier, about local engagements. I was interviewed for it. Where some other couples talked about getting engaged on a six-day backpacking trip through Glacier National Park or on a mountaintop in Bar Harbor, Maine, I talked about how Andy surprised me—during a picnic—at Mariemont's Dale Park.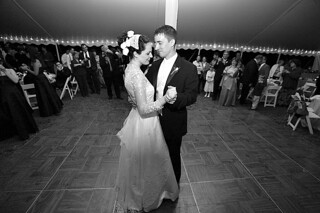 And thinking about that I thought about the wedding song we danced to, "Simple," by k.d. lang.
And so it all came back, full circle.
"and love, as philosophy
is simple …
and ours …" —k.d. lang, David Samuel Piltch