This is the post in which I confess my obsession with a house that (according to Andy) we will never buy.
We don't want or need to move. I love our house. I love our community. The schools are great, Andy's commute to work is reasonable and we have many good friends here. But, from time to time, I tend to become obsessed with the unreasonable. This is my current unreasonable: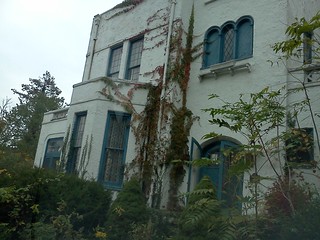 I took these pictures (on multiple occasions as the different seasons reveal) with my cell phone. Now, it's not like I drove all the way up to Glendale (where the house is located) on multiple occasions just to peek through windows on private property trying to get a better look at a house I will never buy. But every once in awhile the boys would fall asleep in the van and if I stopped driving, they would wake up. So I would drive. First around Fort Thomas. Then up I-71. And somehow my van just always ended here. The Porter House.
According to my research (yes, I did research) the house was built sometime between 1855 and 1867 by John H. Porter and family owned until about 1905. It's considered a "pivotal structure" (doesn't that sound so important?) in Glendale. It has two acres and is on a gorgeous, tree-and-sidewalk-lined street with several other beautiful old houses. It has a detached four-car garage (that's falling down but we've been without a garage for so long I don't think that matters), a gorgeous original staircase, built-in bookcases with a rolling ladder in the library, a balcony, a terrace, new kitchen (which is not at all fitting to the house and doesn't seem complete but, whatever), 12′ ceilings and five fireplaces.
I love it.
For a long time the price was unreasonably high, for the amount of work it clearly requires (the outside looks, I don't know, moldy and I'm pretty sure the roof needs replaced and you sort of have to navigate through overgrown bushes and vines to get to the front door—don't ask me how I know that—and one time I visited there was, what looked like, a big sinkhole in the yard with caution tape all around it). But this week the price went down to a price I never thought the bank would allow it to go down to, given how big the home is and the fact that it's on two acres. The problem? I'm sure it requires at least the asking price, if not more, in funds to fix it.
But oh, what a beautiful home it could be! Andy (apart from the many, many, many, exhaustingly many reasons he comes up with on why we can't buy this house) doesn't understand why I even like it—the outside isn't necessarily my style. But I still think with paint and landscaping and love it could be my style. And the inside … I could fill it with estate sale finds and then spend my days alphabetizing my books while the kids take turns climbing the ladder in the library.
I know you're supposed to be content with what you have. I know this little dream of mine is completely unreasonable. I know, in reality, I probably need to just let.it.go. But sometimes, I think it's fun to have a little dream, something completely and totally unrealistic to think about. Like those moments when all hell is breaking loose in your house and you imagine yourself on a beach blanket on sun-warmed sand listening only to waves crashing and seagulls calling. Or those moments when you open yet another rejection letter from a literary agent and you imagine yourself at a room-filled book signing, telling loving readers how many rejections you received before achieving your bestseller status. (OK, so these may be other little dreams of mine but still, you get the idea.)
Anyhow, I know (a little sadly) that I will never own The Porter House. But I just hope that the family who someday does doesn't tear it down but it embraces it, fixes it, loves it—brings it back to what it once was and what it still can be. For then my dream will (sort of) be filled. Even if it is filled, vicariously.
"Dreams are extremely important. You can't do it unless you imagine it." —George Lucas