In January we celebrated my grandma's birthday …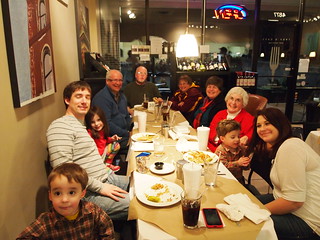 with dinner at Troy's Cafe. Part of me hesitates writing this, because it's such a great suburbia secret. Situated at the end of a strip mall in West Chester, an area awash in chain restaurants, this little gem of a restaurant has delicious, reasonably priced food, good wine and desserts. Andy and I have celebrated an anniversary there. We've dragged all our friends up north to celebrate a birthday there. When family is in town, we often eat there—my parents could be considered regulars. It's small, but I've never had to wait. When we have a large group, we make reservations. But still. I don't understand why it's not packed, all the time.
And they are so nice. I have taken many-a-crying child out to the parking lot only to be given extra crayons or a refill of milk upon our return. Two visits ago, Owen dropped his entire cupcake after only one bite. I think he got out only a couple tears before someone from Troy's just appeared, new cupcake in hand at no cost.
They're good people.
So there you go. If you live in Cincinnati—especially if you live in West Chester—check it out.
"Never trust the food in a restaurant on top of the tallest building in town that spends a lot of time folding napkins." —Andy Rooney