Dear Sophie,
This year your birthday started with a visit from Grandma and Grandpa in Baltimore. And, on the way to the airport, Owen threw up all over himself and the van. As I was trying to get him cleaned up with the few wipes and plastic bags I had, changing him into one of Daddy's shirts slated for Goodwill I found in the back of the van, you ever-so-helpful said from the back, "Mommy, you are not prepared for this."
And I loved that, the humor you gave to an otherwise awful situation. And I loved that, because it showed you are still young enough to always speak your mind. And I loved that because, when it counts, you really are generous and kind. You care, about everything, so much.
Which is why, in part, I felt so badly that your birthday was a bit of a bust.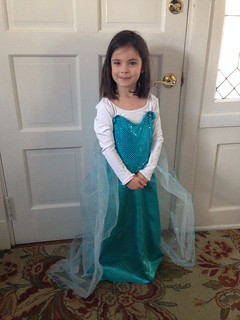 It started out wonderfully, with a present from Great Aunt Susie—a handmade Elsa dress.
Still, on the day of your birthday party at the YMCA, Owen and James had been sick less than 48 hours prior, so both boys had to stay home with Grandpa. (But don't worry about the boys—Grandpa came through with a small birthday celebration they threw for you, on their own, in the backyard.)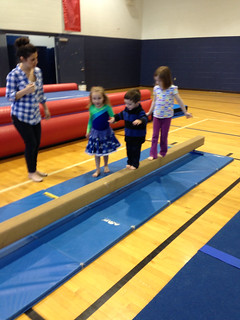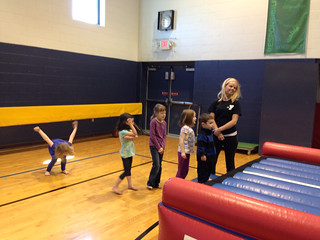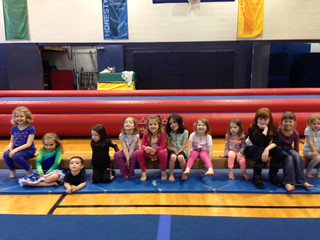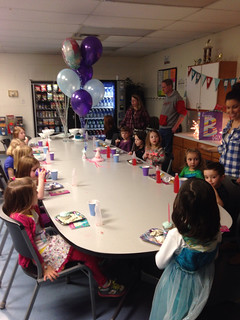 And you, I believe, had fun.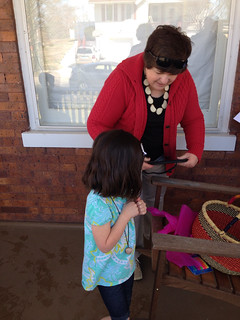 Nini and Pop Pop came to your party at the YMCA, and then followed us home where you opened your presents from them on our front porch. They were on their way to see your Aunt Katy, Uncle Tom and cousin Colleen, who, as you know, has a birthday the day after yours. They stayed on the porch in what we hoped was a germ-free zone, so as not to get pregnant Aunt Katy sick.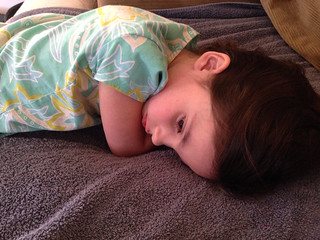 After Nini and Pop Pop left, you said your stomach hurt. I tried to convince myself it was the sweets, but then you, too, got sick. After emailing my sincerest apologies to all the other parents of your friends who were at your party, I sat next to you on the couch, holding your hair and scratching your back—not a great way to spend your birthday, any birthday, but especially a birthday when you're 6.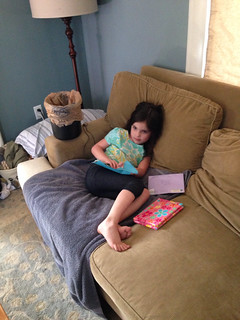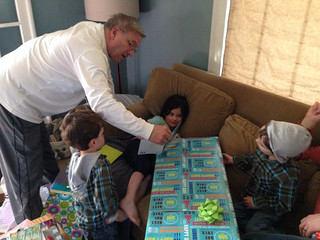 Still, you said you wanted to open presents. It was clear you loved them, but you were quiet and reserved, and you hardly played with your gifts after, which included some much-anticipated Frozen merchandise.
Several days later you were ready for your meal-of-choice: scrambled eggs, fruit salad, bacon and cinnamon rolls "from the can."
Still after, you had a stomachache.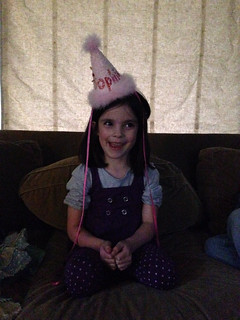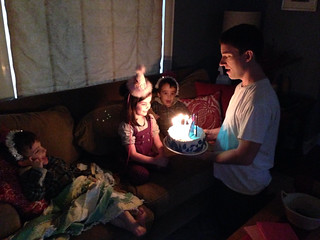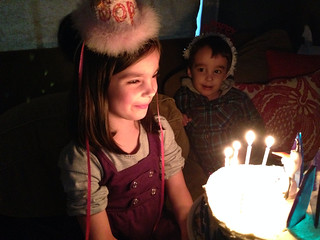 So it wasn't until you were 6 years and 1 week old that you finally had your Frozen ice cream birthday cake, which your dad, who has many varied talents, made for you.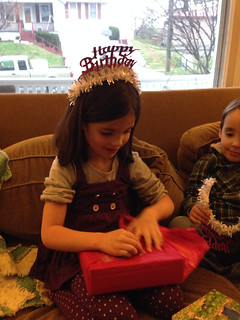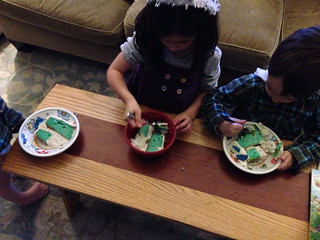 We even threw in a couple extra presents, for good measure. And then, we had cake!
And now is when I normally write a personal letter to you. And I will, but privately. For you're 6 now, my sweet child. You're in kindergarten. You're learning to read. Your friends are learning to read. My thoughts and reminiscences about the year past are no longer primarily focused on physical milestones and parenting mishaps, but more personal milestones—your emotional and intellectual milestones—your growth as a human being, into an adult. And they are yours. And for the ones we share, also mine. And they belong to everyone you choose to share them with, both in the present, and in the future, if that's what you wish.
This was the first year I didn't know what you wished for—you have secrets, experiences, thoughts and frustrations tucked away in your brain that I'm not privy to—as it should be. Still, I love when you share. And I hope you continue to share. And in return, I promise to respect your privacy, as well as a mother (who also is a writer) can.
Happy, happy birthday my generous, passionate, funny Sophie.
I love you, always.
"We turn not older with years, but newer every day." —Emily Dickinson