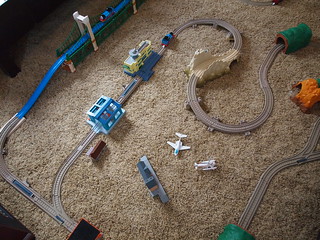 Our friend Julie very generously gave us lots of Thomas the Train TrackMaster pieces. We could fill our whole house with tracks, I imagine (and which Andy and the boys tried to do the day after we got them). After tripping over tracks for a day, I fairly quickly determined having tracks running all over our living room and dining room wasn't the best plan. So now, Andy sets up new configurations in the boys' bedroom weekly (eventually they have to be picked up so I can vacuum). This has provided hours of indoor amusement. (Thank you, Julie.)
Sophie got roller skates for Christmas. She spends a lot of time roller skating the loop around our dining room table, switching from carpet (easy) to hardwood (hard).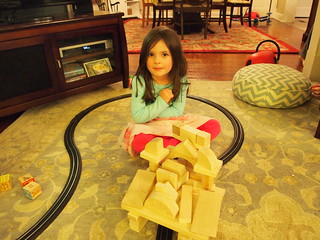 Trains are a big thing these days. The boys set up the tracks they got from Grandma and Paw Paw for Christmas, and then Sophie builds elaborate tunnels around them.
Despite my complaining, it's not all bad, being inside in the winter. And, I suppose, a lot of it's attitude. Several weeks ago I was lamenting how small the playroom was. "It's big enough, Mommy," Owen said. "It's big enough."
I love when children are unknowingly wise.
"There is a privacy about it which no other season gives you. … In spring, summer and fall people sort of have an open season on each other; only in the winter, in the country, can you have longer, quiet stretches when you can savor belonging to yourself." —Ruth Stout