This morning I walked past unmade beds …
and a laundry basket overflowing with dirty clothes …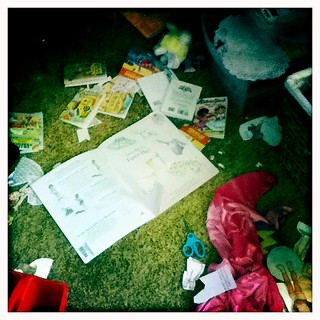 and a playroom that, honestly, more often than not looks like this.
I walked down the stairs past the frame in our wall gallery that still has the model family in it, as I haven't had time to choose, print and pick up a picture to take its place.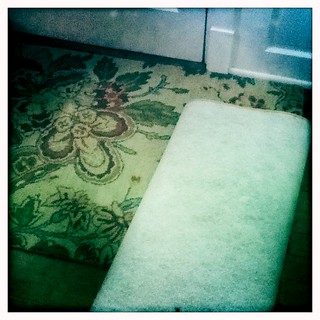 I stepped over the large, rolled-up rug in our entry, which has yet to sell on Craigslist—probably because I haven't gotten around to actually posting it yet.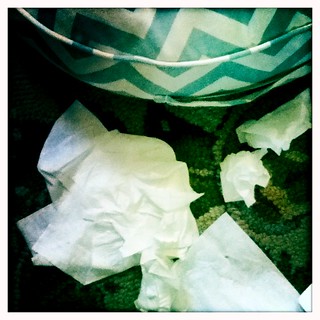 I walked past a pile of dried-up wipes James emptied from the wipes container …
and nearly stepped on a tube of suntan lotion, resting next to Sophie's ballet outfit, which she wore two days ago.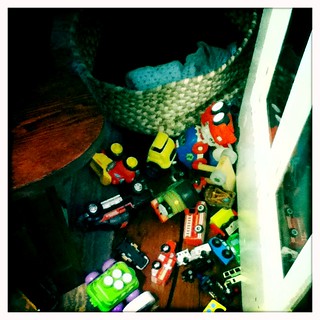 I took a sideways glance at the pile up of cars, each of which fell to their demise after being pushed down the sloping arm of our leather and oak mission chair.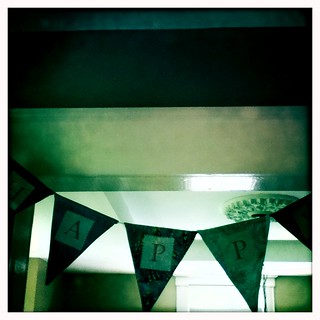 I walked underneath the Happy Birthday banner, still up after Andy's birthday earlier this week.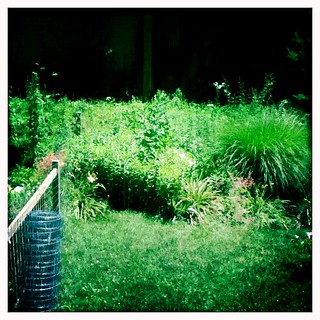 I walked through the dining room and looked out our windows only to be reminded of the fact that our lawnmower is still at the shop, our grass is much too tall, there is a great possibility our fence will never be finished and weeds have overtaken our flower beds.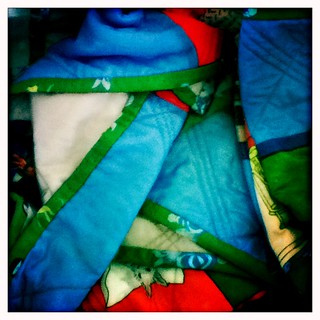 Once in the kitchen I checked on the quilt my mom made for Owen, which is soaking in a tub of cold water because of an overnight bloody nose diaster.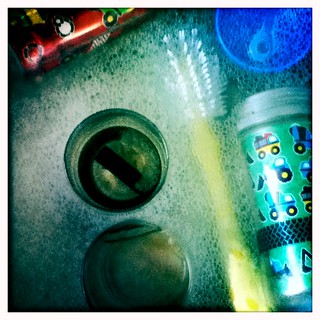 I looked at the counters, still covered with dirty dishes, some in the process of being washed, thanks to a broken dishwasher.
Up late last night with freelance work I yawned, wishing coffee could make itself. The boys were yelling "banana" repeatedly and Sophie was inside the refrigerator, taking stock of all the new things Andy had brought home from the grocery last night.
I broke a banana in half and pulled out a large container of strawberry yogurt, Sophie's favorite. While I was spooning it into a bowl she said she wanted vanilla. With honey in it.
The vanilla yogurt, actually Greek yogurt, is my yogurt. It comes in small, individual, expensive containers and so I limit myself to about three a week. I add honey. I love them. They're my treats.
"No, Sophie." I said. "Those are mine. You love strawberry yogurt."
Cue whining/complaining/tears/other it-is-way-too-early-for-this reactions.
I gave her the strawberry yogurt. More whining/complaining/tears/other it-is-way-too-early-for-this reactions.
Perhaps I was being selfish, not giving her the Greek yogurt. Perhaps I should have held my ground, and insisted she eat the strawberry yogurt. But the weight of the whining, the mess, the late nights, the broken lawnmower and the broken dishwasher, Owen's physical therapy appointment which we were already late for, the painful blister on my foot from (stupidly) wearing flip flops while pushing all three kids in the stroller all the way to the farmer's market yesterday all became too much.
I gave her the Greek yogurt. And a bottle of honey (which I, perhaps, placed too hard in front of her, as it fell over). I walked into the kitchen and gripped the counter.
"Go upstairs," Andy said. "Take a break."
"I can't take a break," I said. "You'll be late for work if I take a break. I can never, ever, ever take a break."
Of course that last sentence was not true. But many days, it feels like that.
Andy went upstairs to take a shower. I started coffee. And poured myself a bowl of generic rice cereal and began to eat.
"Mommy?" Sophie asked. "I don't want the vanilla yogurt. Can I have strawberry instead?"
"The brook would lose its song if you removed the rocks." —Fred Beck