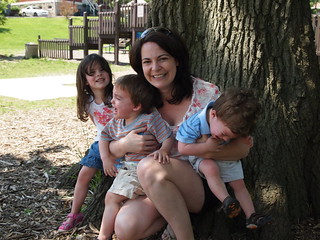 We tried taking several pictures.
This was the best of the bunch.
In all seriousness, though, it was a lovely day. We celebrated a week early as I was out of town for my brother's graduation on this year's actual Mother's Day. The children gave me cards, a lovely plate and an outdoor dome plate cover. Andy got me a beautiful watch. There was breakfast in bed, which Sophie insisted on taking part of, which meant syrupy sheets. We had a picnic at the park, which the kids loved. Until, of course, I insisted on a picture with them. But ice cream at Graeter's made up for this unreasonable request of mine.
"Sometimes the laughter in mothering is the recognition in the ironies and absurdities. Sometimes, though, it's just pure, unthinking delight." —Barbara Schapiro