I like Craigslist. A lot. I like it because it allows me to buy things I could otherwise not afford. I like it because it's reusing and it's a win-win situation: I'm helping the seller get something out of his house he no longer wants or needs and for a small price, I receive something I need or want. I like it because (thanks to a smartphone app) I can spend a minute or two a day quickly searching for one specific item (for example, "chandelier") and, with patience, I'll eventually stumble across the perfect one—no spending weekends at garage sales, no scouring furniture stores for sales.
Some of my best finds include a barely used 9×12 wool Pottery Barn rug for $80. A patio set (including a table, six chairs, umbrella stand, umbrella and six Pottery Barn cushions) for $50. A large Step2 outdoor play set (that had previously only been used indoors) for $30. These three things alone represent a couple $1,000 in savings. (The best finds, I've learned, come from wealthier people who are in the process of moving or who have just moved—they don't care about how much money they are making from the sale, necessarily, rather they're just grateful that you're coming and getting it out of their house.)
But, perhaps, my favorite find is our entry chandelier: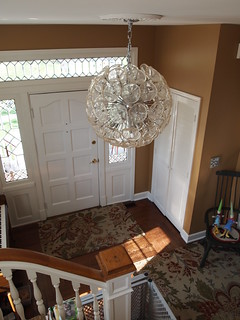 According to the manufacture (I looked it up online, where it's currently on sale for $1,250—but free shipping!): "Contemporary design fuses with historic craftsmanship in this amazing ball of light. The floral sphere is comprised of hand-formed, Murano glass petals mounted on individual arms, with simple spherical finials for the look of an illuminated hydrangea suspended in space."
I love it.
We paid less than $200. But the low price came with, well, a price. A high-end lighting retail store was selling it. It was hanging up in their showroom. The ad on Craigslist mentioned that the buyer was responsible for taking the chandelier down and transporting it, and that the seller took no responsibility for broken glass.
I forwarded Andy the ad. Again and again and again until he finally agreed to go look at it with me simply so I would stop forwarding him Craigslist ads at work.
It was gorgeous. And big.
"It's too big," Andy said.
"I love it," I said.
"It's too big," Andy said.
"I love it," I said.
We agreed to buy it.
That was a Friday. The following Monday Andy's alarm clock went off absurdly early. I shook him.
"You have to get up," I said. "You have to dismantle my chandelier."
The showroom opened at 6am. And closed at 5pm. Andy had to go before work to do this for me. He mumbled some words I couldn't quite understand, gathered moving blankets, bins and tools, and left.
About two hours later Andy texted me something about leaving … it wasn't clear if he was talking about the showroom or me. Turns out, to take down this chandelier, every single flower had to be unscrewed, wrapped and packed. And there are, I don't know, close to 100 flowers. This, while standing on a very tall ladder.
Once home, Andy asked me to pick up the plastic bin full of Murano glass flowers. I could barely lift it. "No way our ceiling will support that," he said.
"We can't sell it!" I said. (I've been known to buy things on Craigslist, especially very large rugs, only to discover they don't match/they don't work/they don't fit, which means immediately turning around and reselling it, a process Andy loves to hate.)
I reminded him that this, this one thing, I just really, really loved.
Reinforcing the ceiling required cutting a huge hole in the ceiling and doing I don't know what to an electrical box that still had parts leftover from when our entry was lit by gas (we live in an old house).
This, of course, also took a very.long.time. Which I tried very.hard not to complain about, seeing as I was the one who was requiring the ceiling to be reinforced in the first place.
Eventually, we were able to install the new chandelier. We washed each glass flower. We spent two hours, together, screwing each one in. Ridiculous? Yes. But oh, look at the result!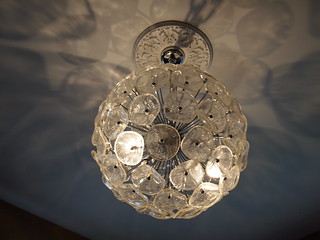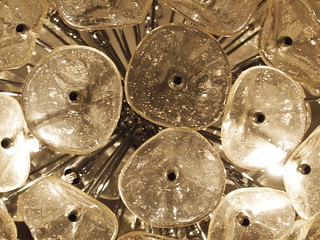 I imagine many of you are thinking, Wow. I would never put that in my house. But to me, it's so different. It's like this huge glowing glass flower ball welcoming you to our home. And I like things that are different. I like that not every house has a huge glowing glass flower ball welcoming people into their home.
We have, however, discovered our huge glowing glass flower ball takes (20)40w T4 G9 120v Xenon light bulbs. I have no idea what all of those numbers mean except, according to Google, these light bulbs are not cheap. (Andy was thrilled with that discovery.)
Still, I love it.
"Anyone who lives within their means suffers from a lack of imagination." —Oscar Wilde